Post Christmas Party Lunch
A very big thank you to Bob and Liz for organising the lovely lunch at the Royal Oak in Welshpool.   It was a great to see so many there.  Thanks also to High Mileage, who provided the music for the afternoon.  It was a perfect way to spend a Saturday, getting out in the fresh air for a walk followed by good food and enjoyable entertainment.  Here's to the next one!

After walking on the 27th July,  we celebrated in style with an afternoon buffet at the King's Arms in Church Stretton.  Despite the weather trying to dampen our spirits, over 60 people turned up to either walk with us or to meet with us at the pub afterwards which made it a very sociable occasion.   We need to say a big thank you to the organisers of the buffet, Bob and Liz, as well as to the walk leaders Peter, Mick, Mike, Dennis and Pam.   Also, not forgetting Peter, who arranged for this fabulous cake!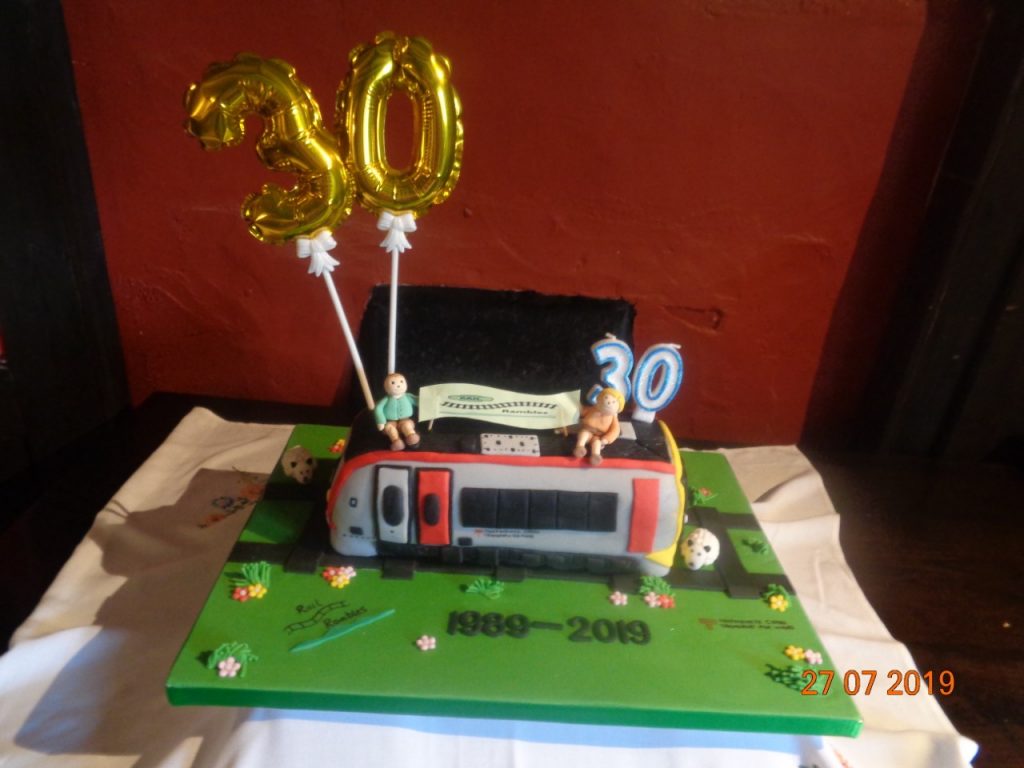 It was an occasion for paying tribute to Alan Howard's vision, and it was great that at least three of the original ramblers who started with him 30 years are still walking with us.  Their boots have surely clocked up a serious number of miles!   In honour of this special summer, we have produced an anniversary newsletter.  This also acknowledges the contribution of our wonderful team of volunteers, without whom the walks would not take place.  Take a look here and you will see many photographs which have not been featured on this website before.  (See if you can spot Michael Portillo!)
**************************************************************************************
BBC Shropshire presenters Eric and Clare promoted a Summer of Walks on their morning show.  We invited them to join us on a walk in Church Stretton and we were delighted when they accepted.  They chatted to a number of walkers, both before and during the ramble.  In case you missed the interviews here are links to the show, and you may recognise a few voices. 
We were featured over four days, and the first two excerpts were recorded at Shrewsbury station, complete with steam train, whilst the rest were on the walk itself. 

**************************************************************************************
The very successful launch of the final section of the Heart of Wales Line Trail took place on the 28th March 2019, with a choice of three walks on offer.  The weather was kind, as you can see from the photos below, and there was a great turnout.  You will also find a selection of pictures on their page on Facebook.

***************************************************************************************
Good news!  Rail Rambles is now affiliated to the Ramblers, which makes official the longstanding relationship between the two organisations. We share values with the Ramblers and support the work they do, and they in turn have given us a lot of support over the years.
Just to be clear, though, affiliation is a link, not a merger.   We remain independent, offering an open walking programme, so you don't need to be a member of any organisation to come walking with us!