Every Saturday you will find at least one guided ramble, of around 6-10 miles, which starts and finishes at a railway station in either Wales or the Welsh borders. In addition, there is a Wednesday rail ramble at least once a month. We welcome walkers of all ages, however anyone below the age of 18 needs to be accompanied by a parent of guardian. To comply with the wishes of the majority of our walkers, we're sorry but dogs cannot be taken on any Rail Ramble. Assistance dogs are permitted but please check with us first, as routes may not be suitable or safe for your dog.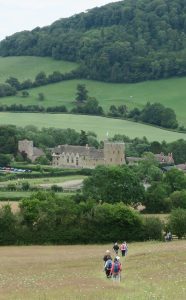 You don't need to be a member or have to book in advance. Simply choose a walk from our programme and buy your return train ticket for that day, to either the start of the walk or the finish (whichever is further away). Then come along and enjoy the fantastic countryside that we are so lucky to have around us. The walks themselves are free to join, just remember to bring adequate footwear, waterproofs, a packed lunch and plenty to drink.
Although the train times are centred on Shrewsbury, you can choose to travel from any railway station that suits you. We have people who regularly join us from mid-Wales, Cheshire, Shropshire, Staffordshire, the West Midlands, Herefordshire and even Cardiff.
All the walks are led by experienced volunteers, who are all members of the Rail Rambles association which is affiliated to Ramblers GB. We share values with the Ramblers and support the work they do in protecting and promoting public footpaths, and they in turn have given us a lot of support over the years. Just to be clear, though, affiliation is a link and not a merger. We remain independent, offering an open and free walking programme – you don't need to be a member of any organisation to come walking with us!
We are grateful to Powys Ramblers for their assistance, which in the past enabled us to publish a printed programme and to run this website. We are also grateful for support given to us by Transport for Wales, and previously by Arriva Trains Wales. This support allows our volunteer leaders to travel freely in order to explore new walks and ensure that our programmed walks are as safe as possible.